Our state-of-the-art new cataract laser will revolutionize surgery for patients.
We at OCLI are lucky to be involved in a medical field and industry where there is so much passion and exploration for growth in vision technology. Whether scientists are exploring ways to introduce a revolutionary bionic eye to those who cannot see, create art exhibits that the visually impaired will be able to absorb, or researching new ways to help make 20/20 vision a possibility for everyone, the ever-growing world of eye technology brings great excitement for the future of vision.
It is with this enthusiasm and growth in mind that we are thrilled to announce that Dr. Silverman and the OCLI team are first ophthalmologists in New Jersey to offer a new, state-of-the-art HD Cataract Surgery using the Catalyis Precision Laser System.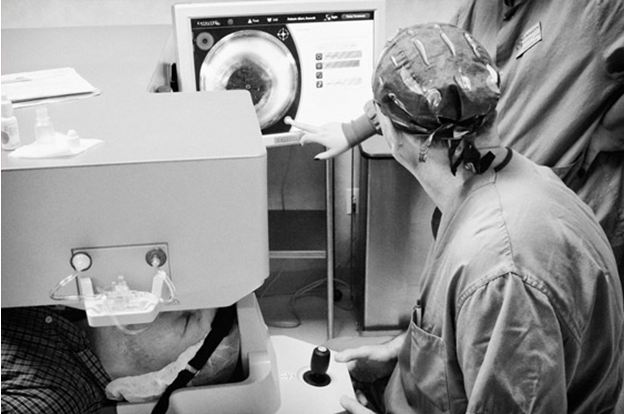 We have coined the term HD Cataract Surgery to describe how the Catalys system combines a one-of-a-kind femtosecond laser, advanced 3D Optical Coherence Tomography (OCT) imaging, sophisticated software and a host of other unique features that enable Dr. Silverman to provide his patients a gentle, highly customized procedure with unprecedented precision.  This translates to a safer surgery with quicker return to superior vision as compared to SD cataract surgery!
To help you get a better idea of what this new laser and HD Cataract Surgery means for our patients with cataracts, here are 5 amazing facts about OCLI's new Femto Laser HD Cataract Surgery:
1. It's Safer Than Ever
While traditional SD Cataract Surgery is already considered to be one of the safest and most successful procedures performed in medicine today, most of the steps are still performed manually with a surgical blade, a bent needle, forceps or chopper.  However, HD Cataract surgery automates these steps, adding a greater amount of precision to the entire cataract procedure making the surgery even safer and more predictable.
2. Offers An Even Faster Recovery Time
Catalys' sophisticated laser technology makes the breaking-up and removal of the cataract easier and gentler on the eye then the SD technique.  For example, a clinical study has shown that Catalys can nearly or completely eliminate the ultrasound energy traditionally needed during this step. This low-energy approach reduces inflammation, allowing for a more rapid recovery.
3. Reduces And Controls Astigmatism
Because Catalys offers precision laser intrastromal arcuate incisions, this helps to control and reduce the signs of astigmatism in patients―an unparralled accuracy impossible to achieve by hand, meaning better vision without glasses.
4. Reduces Need For Glasses After Surgery
With this procedure, Dr. Silverman is also able to offer patients the option of inserting a premium multifocal implant in place of the cataract. When combined with the Catalys Laser, these advanced technology IOLs provide excellent distance vision and allow you to focus on near objects as well, reducing the need for glasses following cataract surgery.
5. Allows For Unmatched Precision
Using Catalys, Dr. Silverman is able to make all the incisions required for successful cataract surgery with an accuracy that is approximately 10 times greater than that achieved with the manual (SD) technique. This kind of precision and accuracy helps to set the stage for the proper and reproducible positioning of the IOL.
Dr Silverman is the first certified, and most experienced femtosecond cataract surgeon in the State of New Jersey!  Many surgeons from across the area are now coming to see him perform this cutting edge procedure.  If you are interested in learning more about our new HD Cataract Surgery or would like to see if you would make a good candidate for this procedure, be sure to contact OCLI today.